We're grateful to be on your team, making a positive impact.
We've created hundreds of websites for private practice therapists like you, and we know how to help you succeed online. We make it easy for you to have an effective website.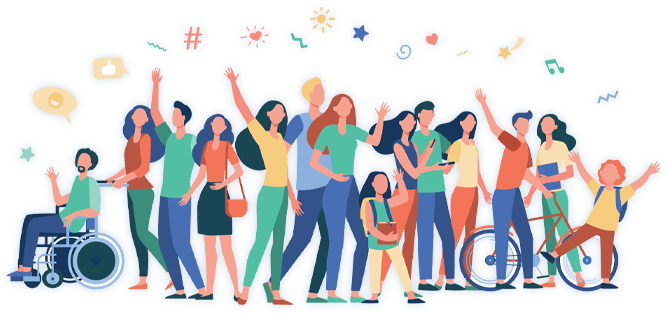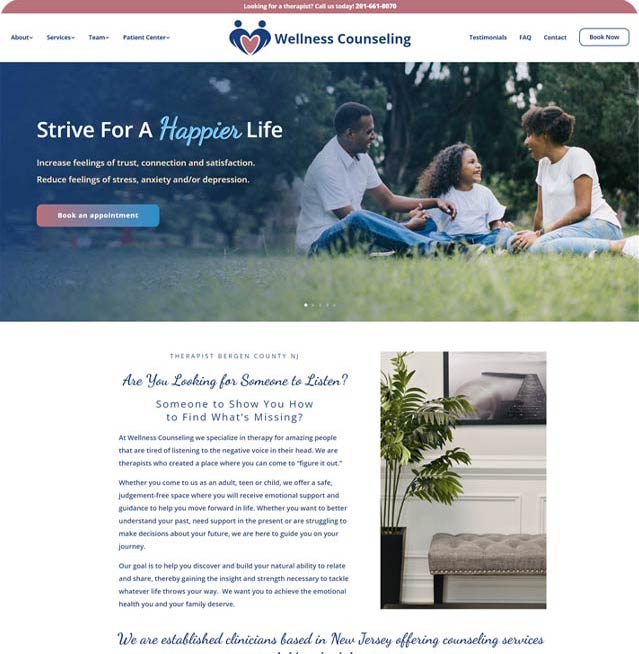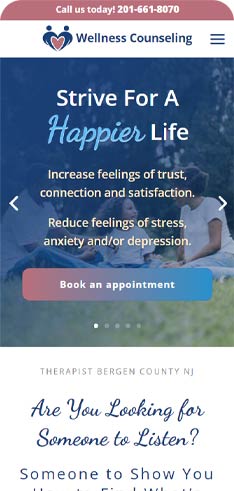 Can't say enough about Qmars and his team at TherapyRising! They are communicative, easy to work with and helpful if you are looking for SEO help or website assistance. If you don't want to feel like another number to a company and want someone to understand your business needs this is the place. Highly recommend their services!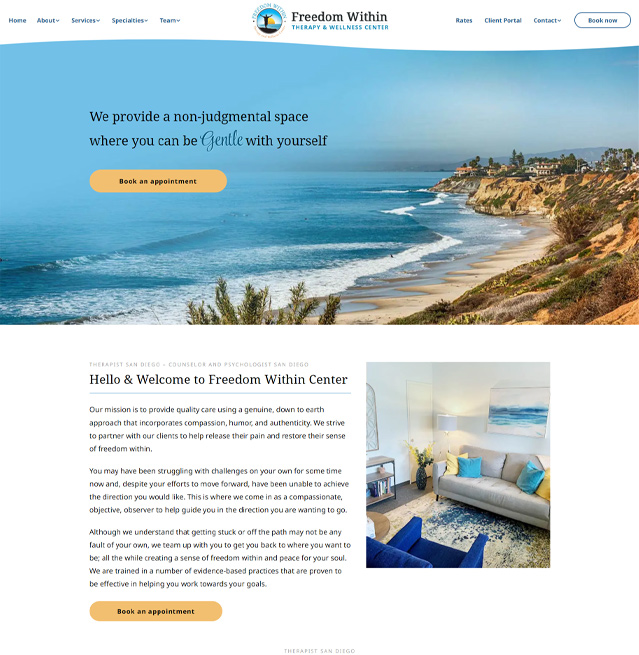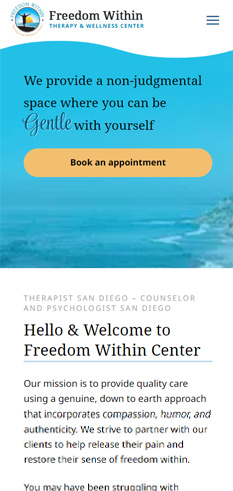 INSTRUMENTAL IN IMPROVING SEO AND GETTING US MORE CLIENTS
Kendra Penski, LCSW
FreedomWithinCenter.com
Qmars and his team at TherapyRising have always been very responsive and quick to make changes/updates to my website and provide guidance on ways to draw more customers to us. They have been instrumental in improving our SEO and getting us more clients so we can thrive as a business and better help our community. I would highly recommend their services!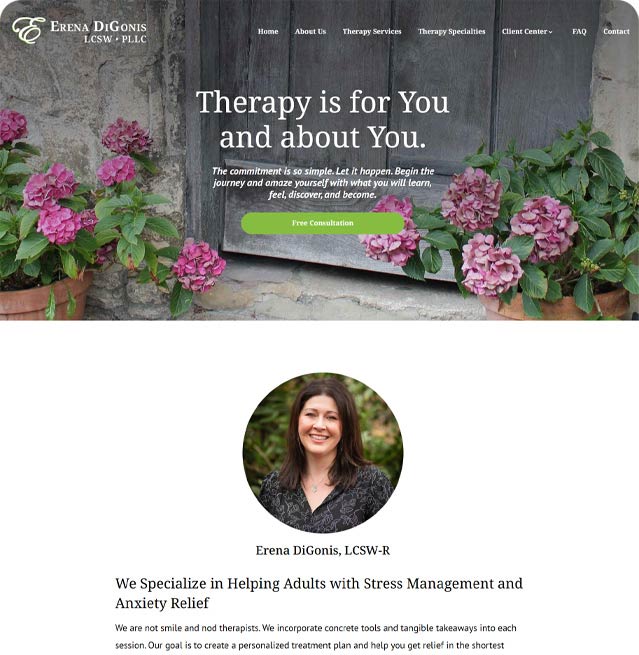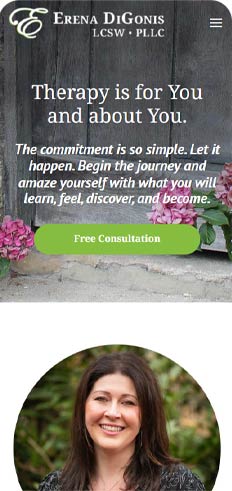 REALLY MADE THE ENTIRE PROCESS EASY
Erena DiGonis, LCSW-R
ErenaDiGonis.com
I am writing this testimonial as a way of expressing my gratitude for Qmars and his company TherapyRising. When I decided to upgrade my website, I was feeling insecure and very overwhelmed. During our consultation appointment, I was immediately reassured and so impressed with our interaction. Right after our initial meeting, Qmars sent me an easy to follow step by step email of the website development process. I was so pleasantly surprised at how quickly he started to work on my website. He sent me great suggestions and truly captured what I was going for. He was highly responsive and available each step of the way. Qmars really made the entire process easy. In addition to being a wonderful person, he is extremely talented and exceeded my expectations with understanding the industry. I am just so happy with my final results and highly recommend TherapyRising to any therapist who is looking to create a website. My biggest regret is not reaching out sooner. Thank you again!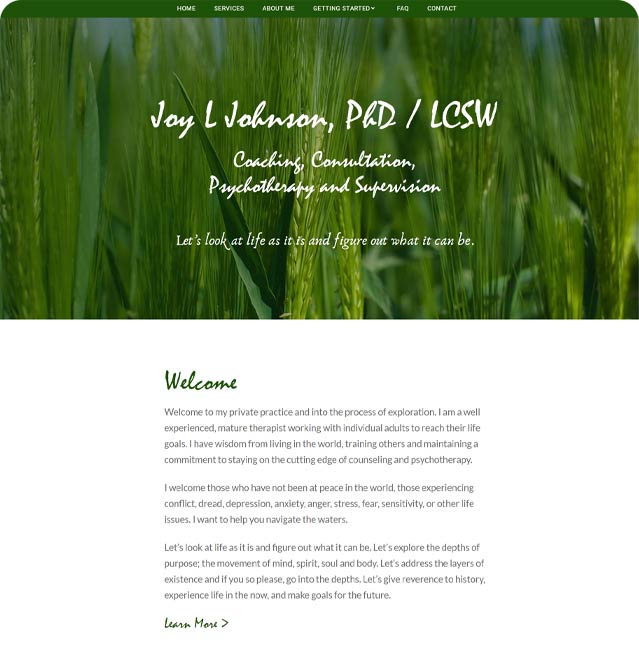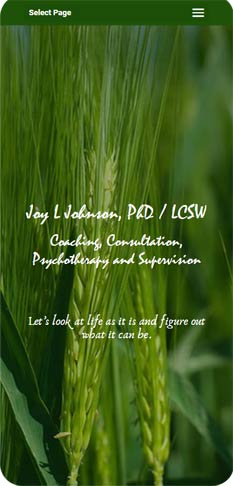 REQUESTS MET WITH OPENNESS AND QUICK COMPLETION TIME
Joy L Johnson, PhD
JoyLJohnson.com
I am impressed with TherapyRising! I shared my situation during a free consultation call and was presented with a plan to get my site transferred and running quickly. My requests were met with openness and an amazingly quick completion time. I was told the ultimate goal was that I LOVE my website, and that was achieved!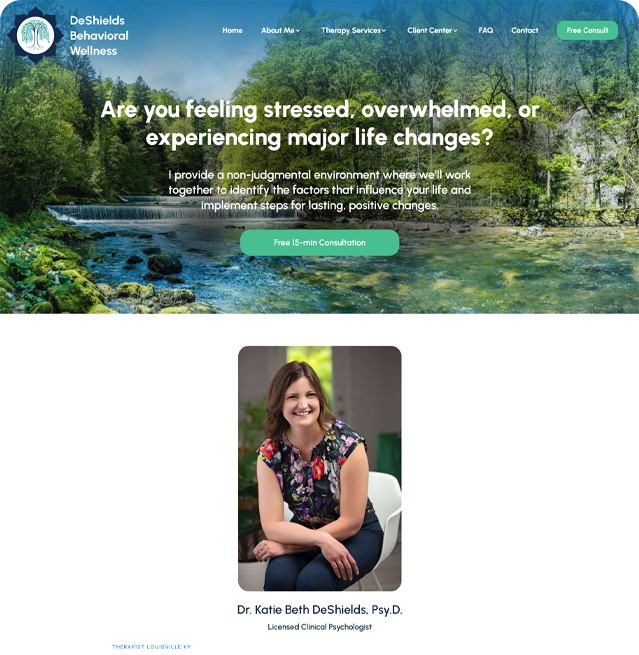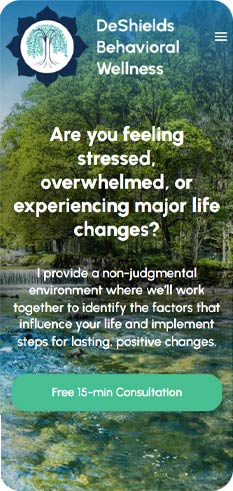 WORKING WITH QMARS AND THERPYRISING IS AMAZING!
Katie Beth DeShields, Psy.D.
KatieDeShields.com
Working with Qmars and TherpyRising is amazing! I initially had no website and was honestly overwhelmed at the thought of developing an online presence. Qmars is very easy to communicate with and eased my worries after our first meeting. He broke the process down into manageable steps and the SEO content development with him was enjoyable! Qmars also created a logo for me that captured exactly what I had in mind. The whole process was collaborative and Qmars was very responsive and open to discuss any thoughts I had along the way. The website really represents who I am as a clinician and speaks to my clients. I could not be happier working with Qmars and TherapyRising and I wish I had done so sooner!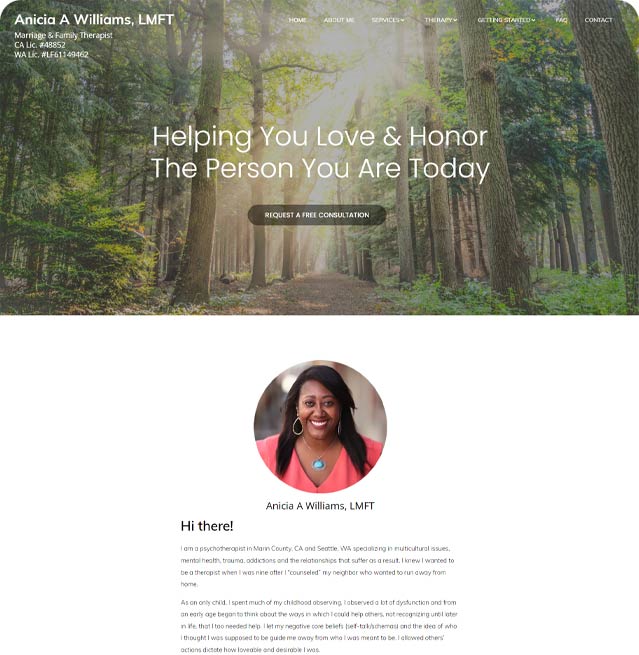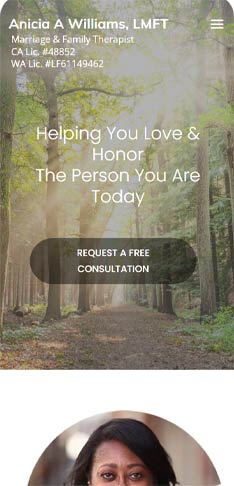 WEBSITE IS GREAT AND MANAGED WITHOUT ME DOING ANYTHING
Anicia A Williams, LMFT
AniciaWilliamsMFT.com
I can't say enough great things about TherapyRising and how my website turned out thanks to the help of Qmars. The site is beautiful, gets a lot of hits and attention and I hear regularly that prospective clients loved my website, "it really spoke to me" or "resonated with me" or they just thought it was aesthetically appealing. The website is great and managed without me having to do anything. When I do need to make changes, Q is responsive and changes are made efficiently. I also have business cards made by them and they are wonderful eye catchers that match my website. I'm so happy I decided to go with TherapyRising with all the solicitors and different places you could use. It felt more personal working with Q.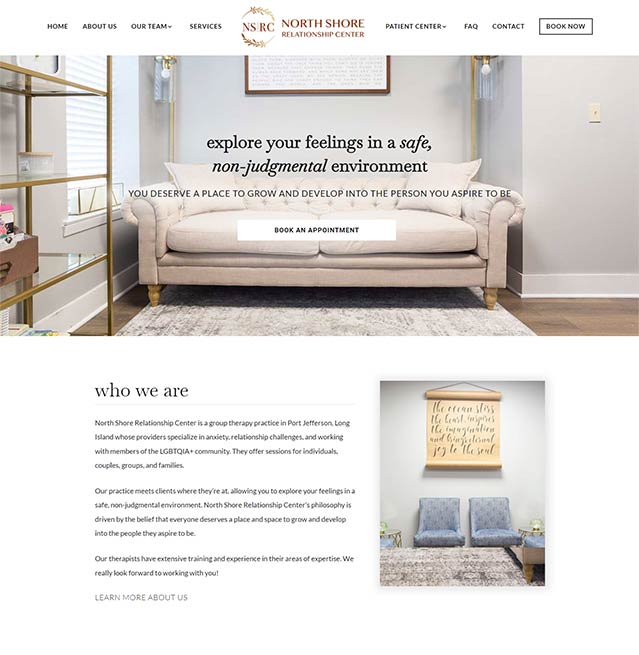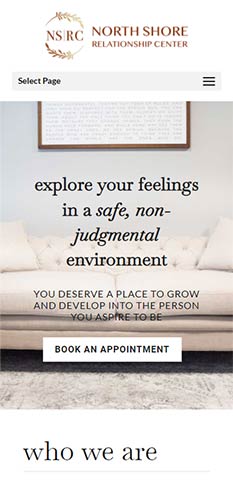 I REFER EVERY THERAPIST I KNOW TO THERAPYRISING
Alexandra Gleason, LMFT
NorthShoreRelationshipCenter.com
I am so grateful from the first call I had with Qmars, owner of TherapyRising. He was able to seamlessly understand my needs, create and develop a customized website, offer ideas and revisions to make marketing my site even better, has assisted with SEO optimization, ordering marketing documents such as business cards, and brochures which are of excellent quality and timelines. I refer every therapist I know to Qmars and have for years. You are in the best hands with someone who is super responsive, kind, understanding, professional and can meet any of your business needs. Thank you so much Qmars & TherapyRising!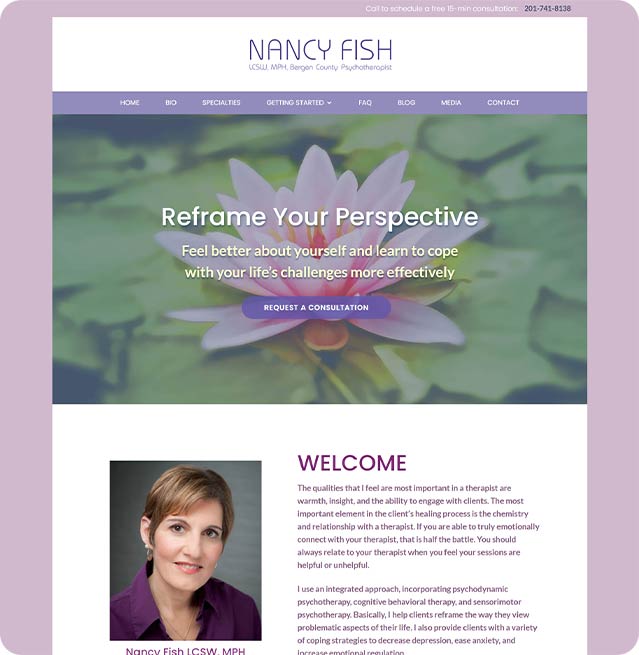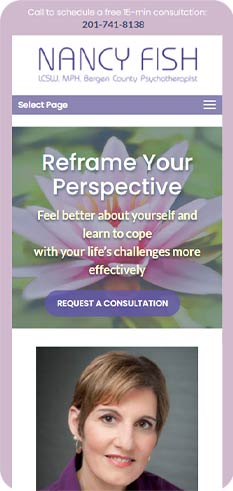 I FINALLY HAVE A WEBSITE THAT REFLECTS MY PRACTICE
Nancy Fish LCSW, MPH
NancyFishLCSW.com
I used TherapyRising to redo my website to give it more of a professional look. I was blown away with their professionalism, creativity, responsiveness, technical expertise and their understanding of what needs to be included and stressed in a therapist's website. They have a comprehensive understanding of clinical terminology as well as graphic design. I finally feel that I have a website that reflects my practice's goals and personality.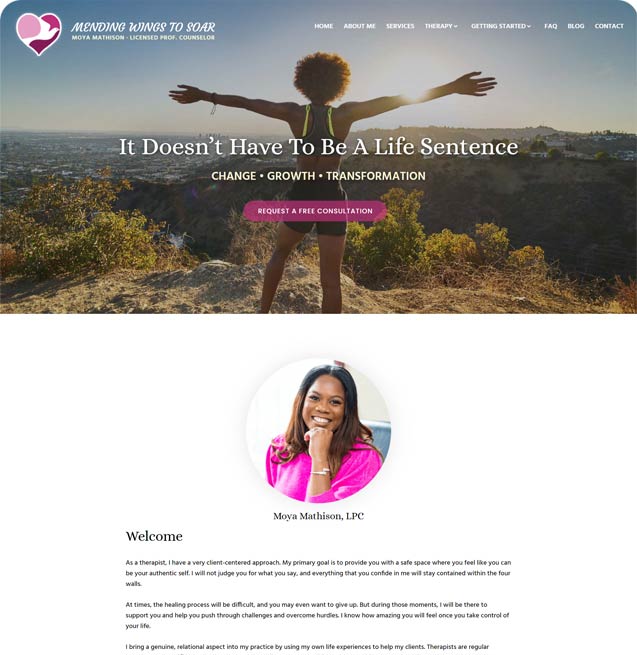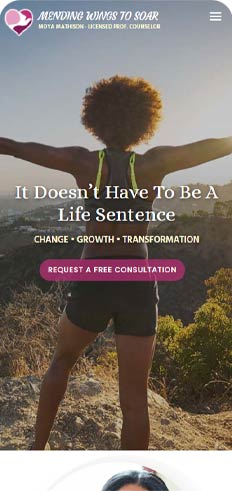 A GAME CHANGER FOR MY PRACTICE
Moya Mathison, LPC
MendingWingsToSoar.com
Clients and colleagues have both provided positive feedback about my new website! There's also been an increase in calls from improved Google search rankings for my business! My name is Moya Mathison, and I'm a solo private practice owner and Therapist in New Jersey. When I started in private practice, I created my own website, one that I was not very proud of since it wasn't my area of expertise. In 2020 during the pandemic, I connected with Qmars from TherapyRising, which was a game changer for my practice. Not only is my updated website and logo beautiful, but it's also functional. The process from the initial call to the finished product was a breeze, and I felt I was in good hands from the beginning. I was initially nervous about my website being managed by others (especially on the West Coast). However, Qmars' prompt responses and turnaround time made me feel more at ease with relinquishing this responsibility. Now I have more time to put toward the long list of tasks included with running my own business.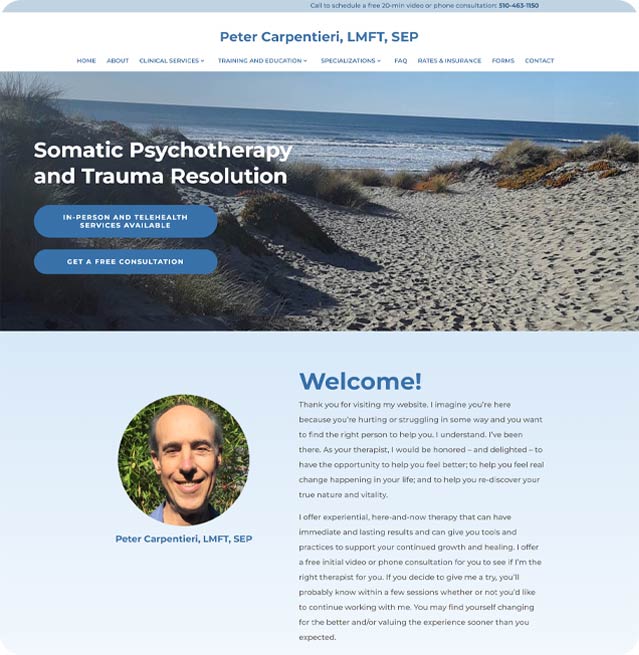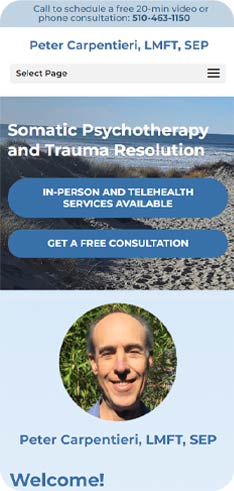 RESULTS HAVE ALWAYS BEEN SUPERB
Peter Carpentieri, LMFT
PeterCarpentieri.com
I have been very happy with the look, the response and the results of my website with TherapyRising. People contact me regularly via my website asking for free consultations as advertised there. Most of them have become regular clients and my practice is full. Qmars has responded promptly to any requests I've made and the results have always been superb. It's nice not having to worry about my website and know that it's being taken care of. Highly recommend it. Well worth the cost.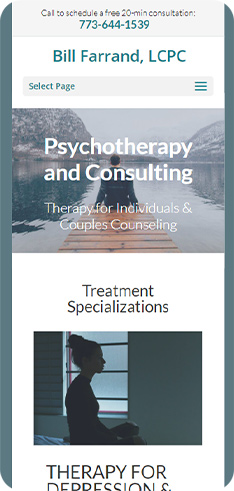 PROFESSIONALISM, QUALITY, RESPONSIVENESS, VALUE
Bill Farrand, LCPC
FarrandCounseling.com
I switched to TherapyRising from another therapist specific site provider a couple years ago and have not looked back. The level of attention to the design and set-up were unprecedented in my experience and the product was a beautiful site that captures the essence of my practice AND has increased the number of online inquiries significantly. I emphatically recommend TherapyRising to any clinician looking for uniqueness, value and quality for their online presence!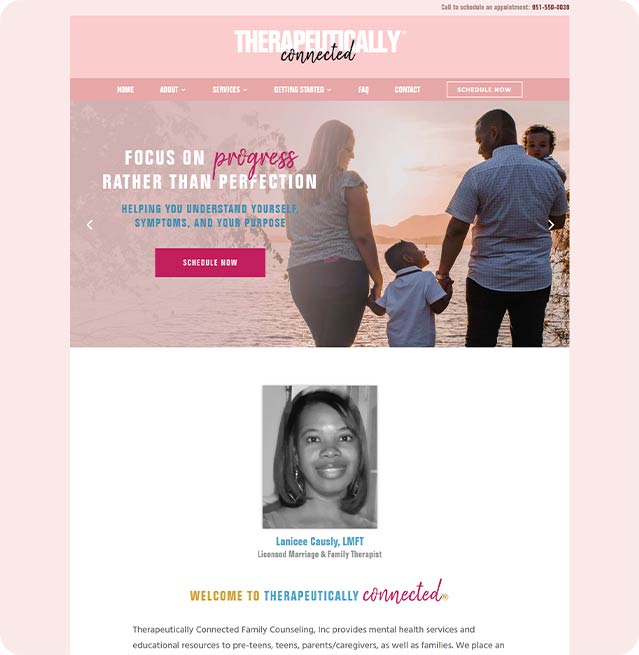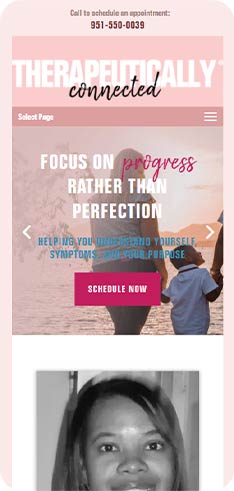 WELL WORTH THE INVESTMENT
Lanicee Causly, LMFT
TherapeuticallyConnected.com
TherapyRising has been a tremendous help in developing an amazing website for my practice. From the first phone call to inquire about website creation to the ongoing support provided… it's well worth the investment. I appreciate the prompt responses and creativity in bringing my vision to a beautiful website that is easy to navigate!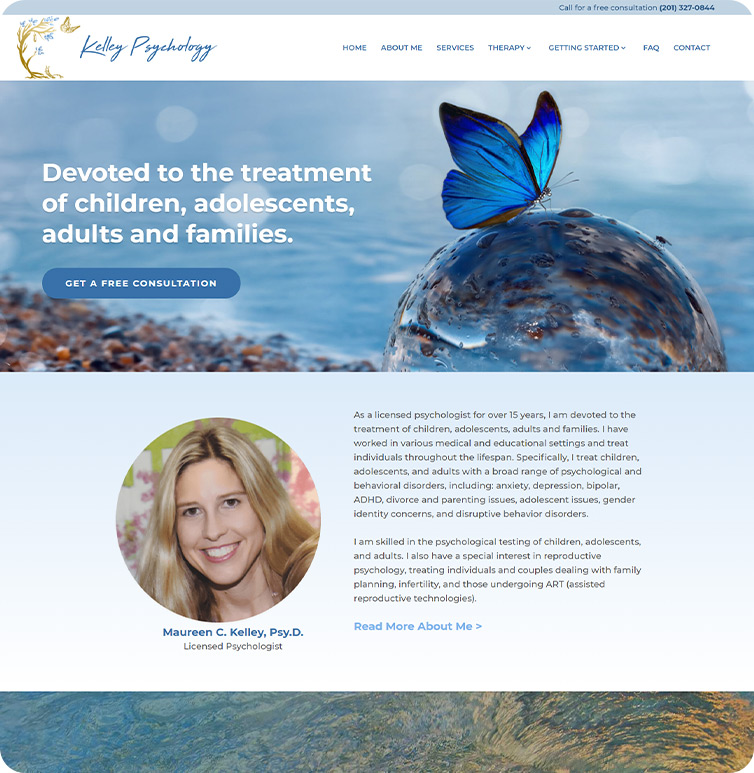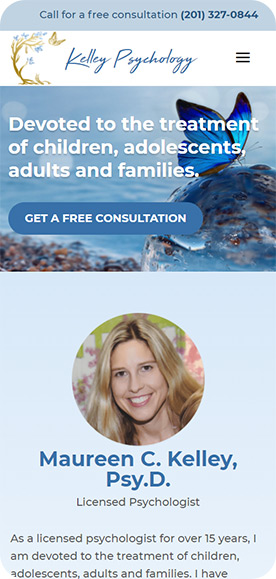 PERSONALIZED MY WEBSITE TO FIT MY EXACT NEEDS
Maureen C. Kelley, Psy.D.
KelleyPsychology.com
Q is the ultimate professional. He is creative, talented, reliable, and passionate about his work. Q went out of his way to understand my practice and professional goals to design a website and logo that exemplifies and defines my brand. Most other companies use one-size-fits-all templates, but Q personalized my website to fit my exact needs. He is always available if I have a question or want to make any changes. He even goes the extra mile, checking in with me on a regular basis to make sure things are running smoothly. I cannot recommend Q and his services highly enough!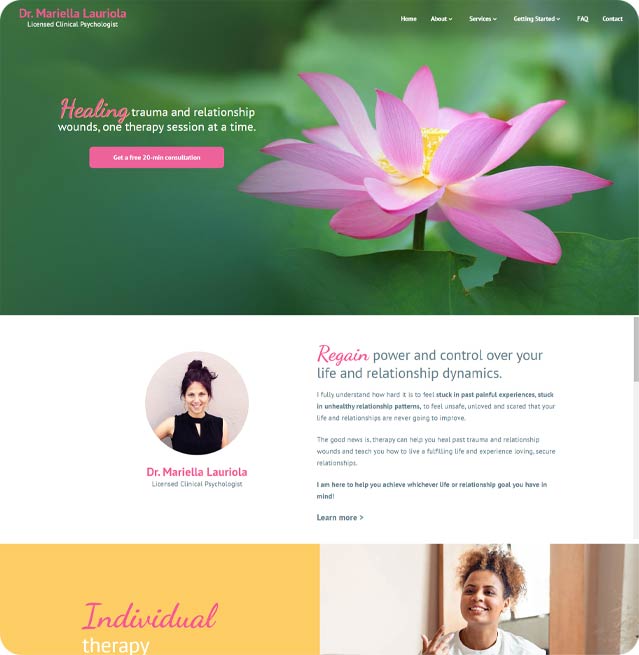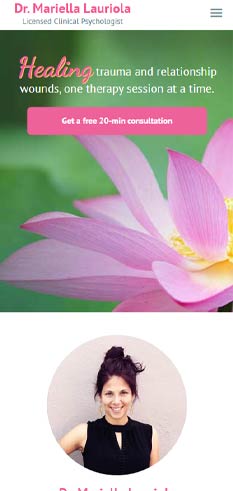 MAKES THE PROCESS OF CREATING A WEBSITE EASY
Dr. Mariella Lauriola, PhD
DrMariella.com
Qmars is incredibly kind, honest, professional and responsive and is a real pleasure to work with. He makes, with his team, the process of creating a nice and functional website smooth and easy. I would highly recommend TherapyRising to any therapist! Thank you Qmars!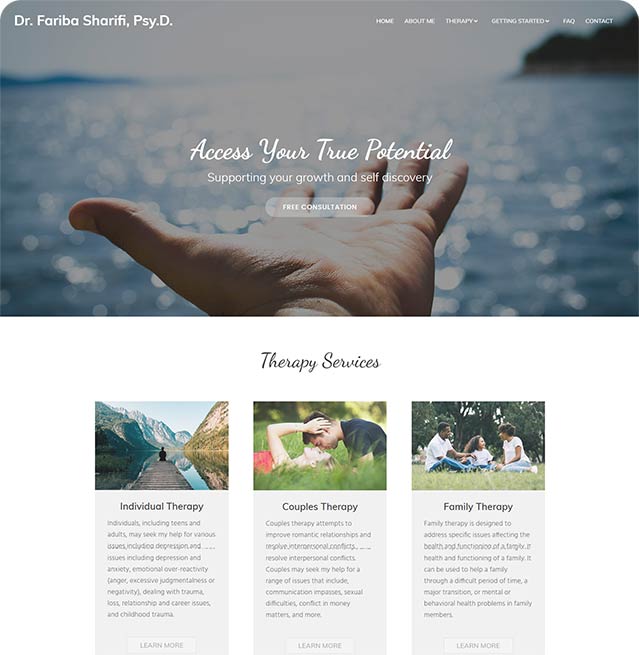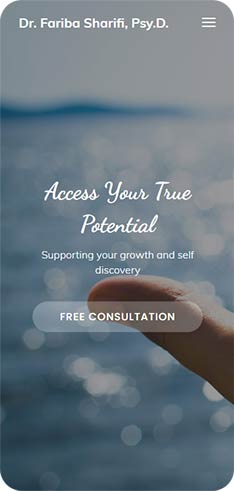 ONLINE EXPOSURE WITHOUT NEEDING TECH EXPERIENCE
Dr. Fariba Sharifi, Psy.D.
DrFaribaSharifi.com
Technology is not my thing, but I know I need a good website. Thank you so much for making it easy to have online exposure without needing any tech experience. I'm more than happy!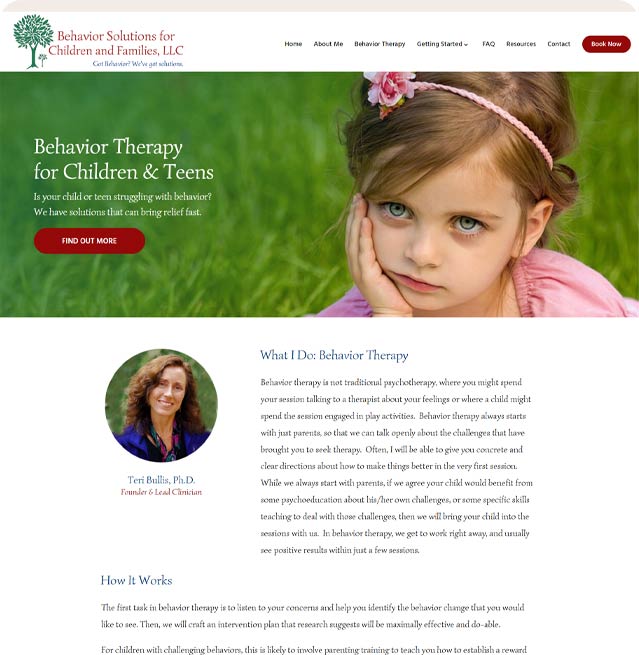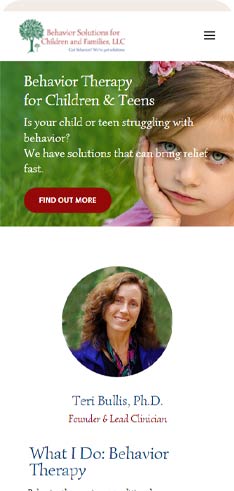 THANK YOU FOR A WEBSITE THAT I AM PROUD OF!
Teri Bullis, Ph.D.
BehaviorSolutionSVT.com
I started working with TherapyRising because I wanted a new, more professional-looking website than what I was able to create on my own. We started with one of the templates that they offer and from there, they were able to develop a website that is exactly what I wanted. They were extremely responsive to all of the changes that I wanted to make (and there were many), and we ended up with a beautiful website that represents my practice perfectly. I am truly grateful to them for giving me a website that I am proud of!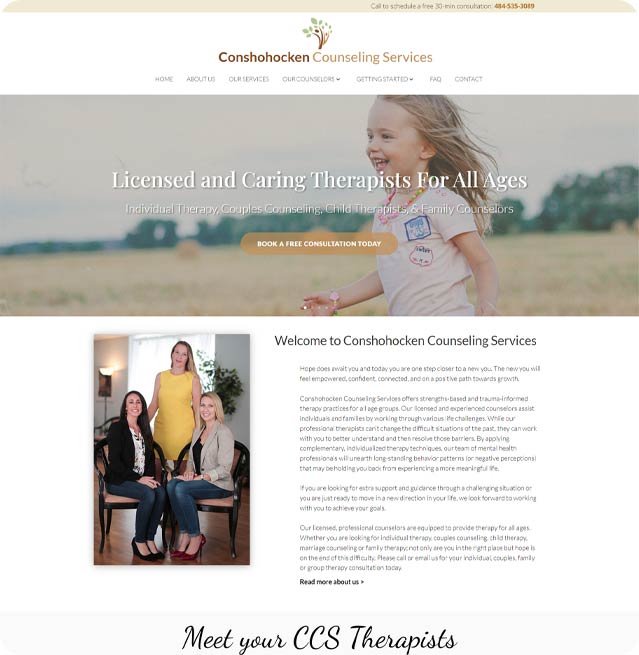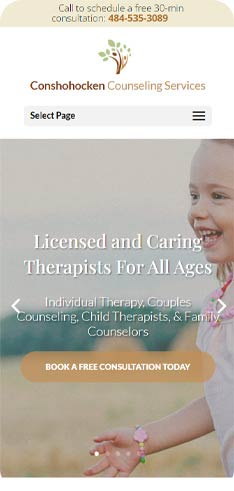 SO HAPPY WITH THE RESULTS AND GET COMPLIMENTS OFTEN
Jenna Giagnacova, LPC
ConshohockenCounseling.com
My colleagues and I used a "boxed" company for years to share our private practice information, and our site was looking very stale. When we found TherapyRising, Q and his team produced a higher quality, less expensive, and much more personal site for us. We have been so happy with the results and get compliments often about the look of our website and branding. We're so happy we chose TherapyRising!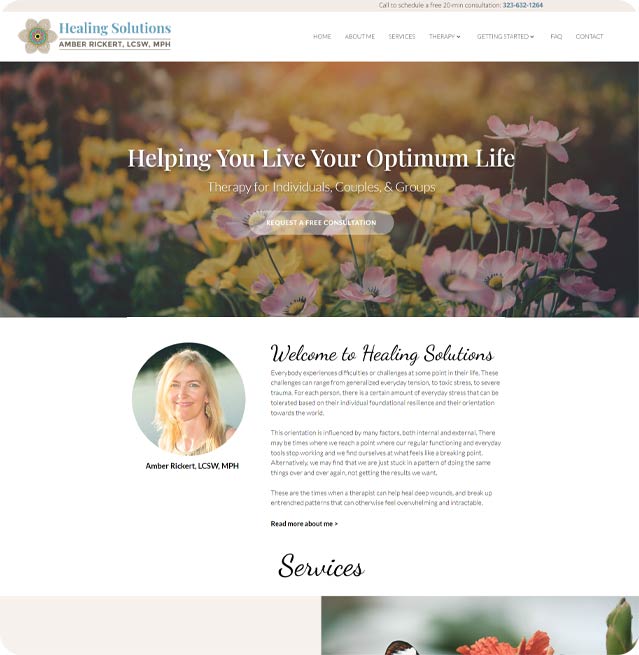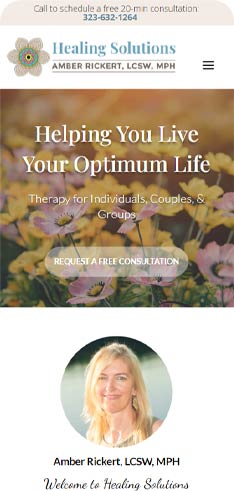 TRULY GRATEFUL THAT I MET QMARS & THERAPYRISING
Amber Rickert, LCSW, MPH
AmberRickert.com
I loved working with TherapyRising. Qmars was so easy to talk to about the vision I had for my website. He took what I told him about my work and my vision for my clients and made a beautiful website for me. He's incredibly responsive and answers me quickly and accurately. I am truly grateful that I met him and feel like it's part of his mission to create powerful and artistic websites for the work that therapists and clinicians offer. Take the leap to work with him! It's worth the investment in your career.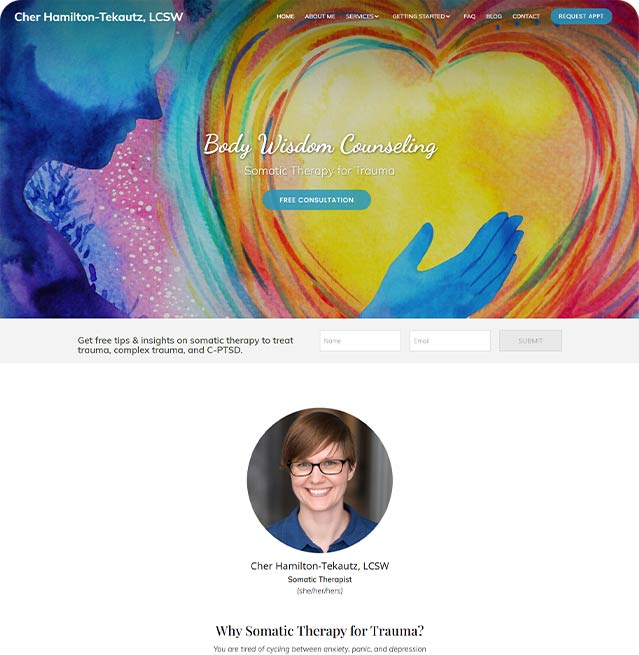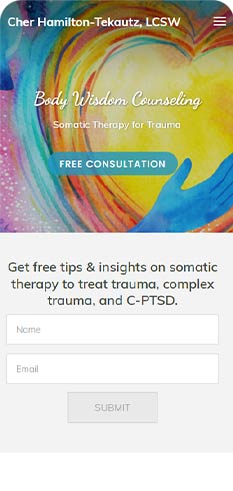 ALWAYS RESPONDED PROMPTLY TO EDITS
Cher Hamilton-Tekautz, LCSW from Body Wisdom
BodyWisdomCounseling.com
I have recommended TherapyRising to several therapists looking to update their website because Q makes it easy and affordable to get a complete website makeover and the service after website completion is stellar too! I've had a website through TherapyRising for over three years and he has always responded promptly to edits that are needed. He will also walk you through the steps of taking care of edits on your own if you'd prefer that too.
Jumpstart your private practice
today
.
Let's work together to create a beautiful and profitable website you LOVE!