YOUR KEY TO ONLINE SUCCESS
Therapist Website Design
& SEO for Private Practice
Done Right
.
We're experts in customized design, creation, maintenance, and support of uniquely branded therapist websites that rank high in Google Search and help you grow your practice.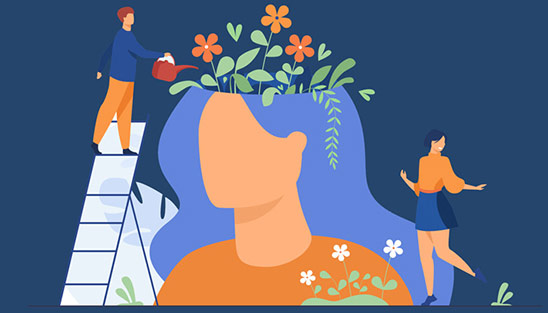 Therapist Website Design and SEO for Therapist Websites
Your All-Inclusive Therapist Website Plan.
Website Design for Therapist and SEO for Therapist Website Designs
We believe therapists are peoples' heroes and we feel honored to be on your team.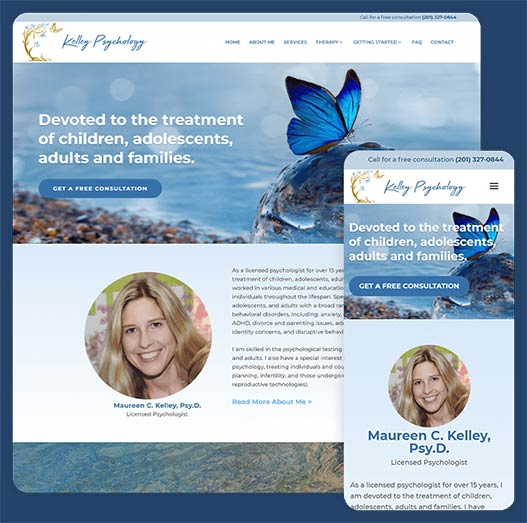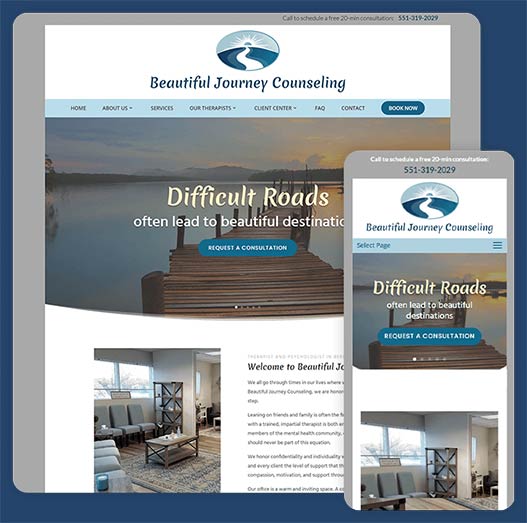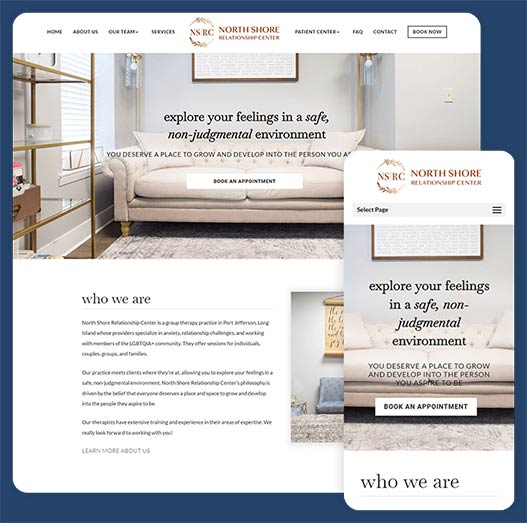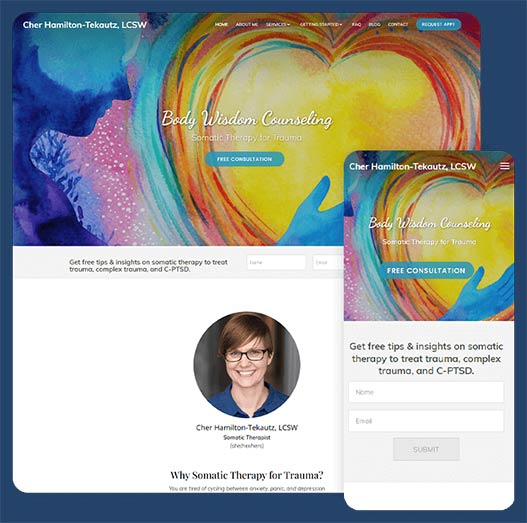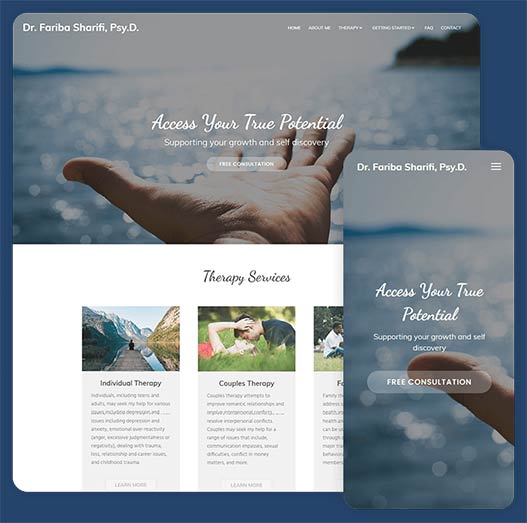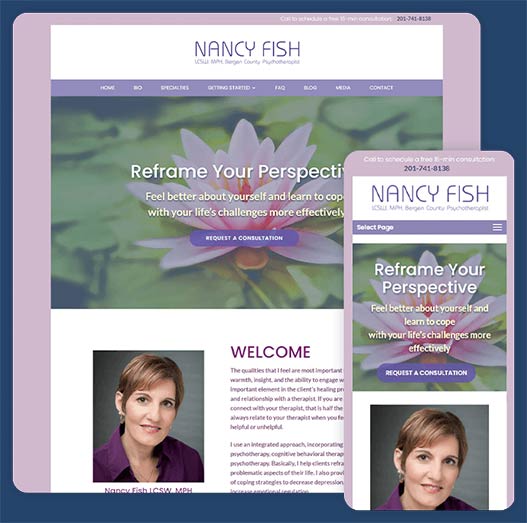 LOVE your new custom branded website and avoid DIY stress with our done-for-you, all-inclusive design, maintenance, and SEO plan, exclusively for private practices.
Learn more
Establish a reliable, ongoing referral source through the power of Google Search and Google Maps.
Learn more
Inspire potential clients to reach out by speaking to their needs. Our collaborative interview process transforms your voice into compelling website copy.
Learn more
Create your dream logo, business cards, brochures, and other marketing materials. Our talented artists help bring your creative visions to life.
Learn more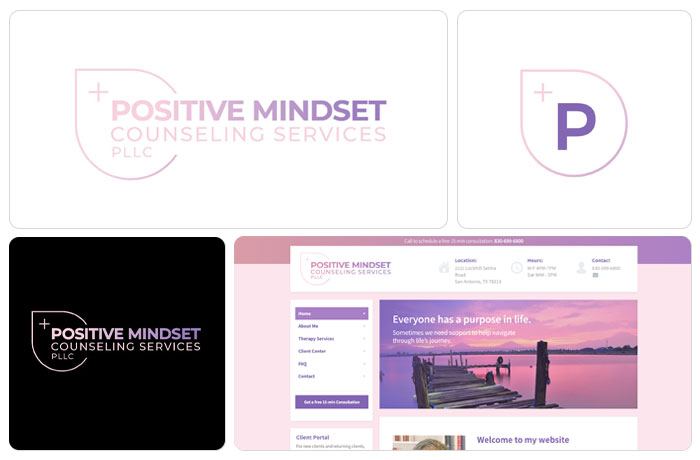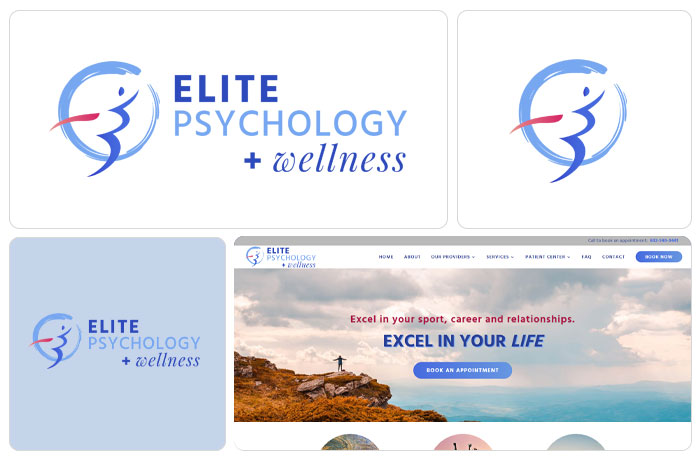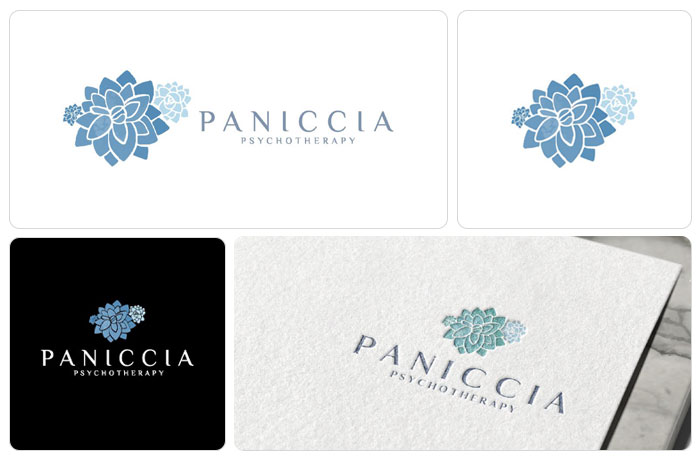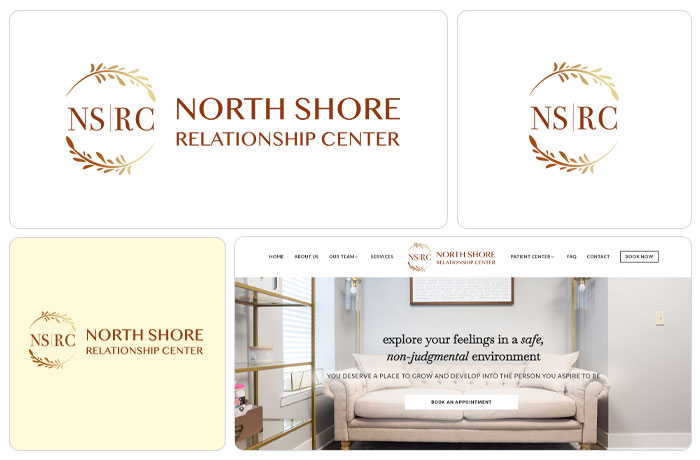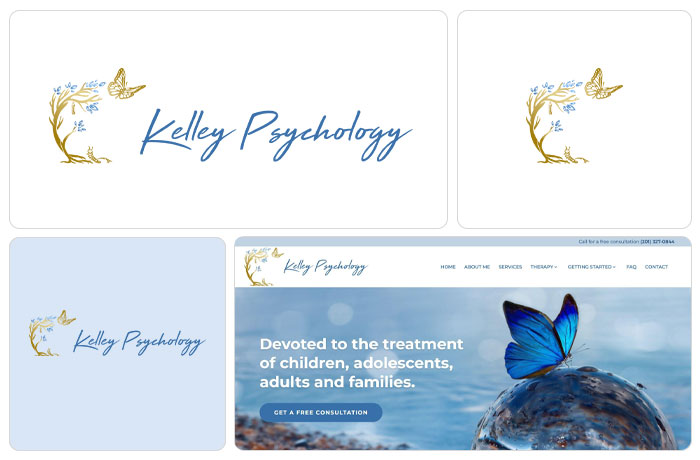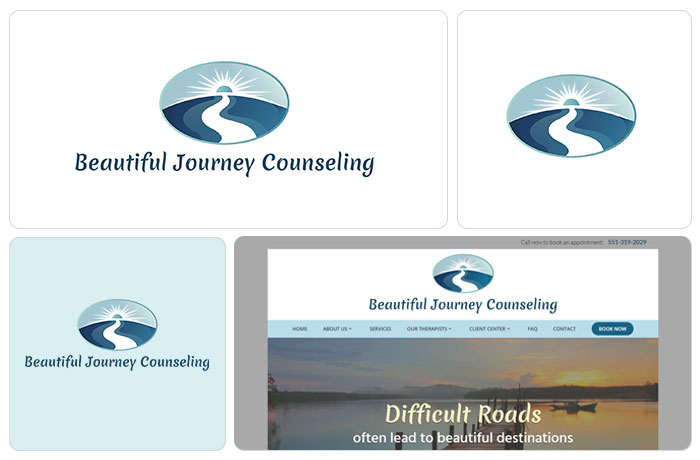 Therapist & Psychotherapy Website Design and SEO
Private Practice Website Design
+
Website for Psychologist
Helping You Fulfill the Private Practice Dream.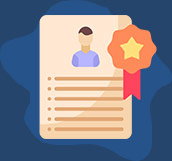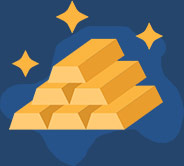 Over 5K referrals per year
generated for our clients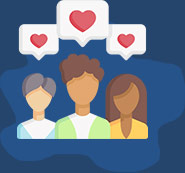 Over 10K revision requests
completed for our clients
Jumpstart your private practice
today
.
Let's work together to create a beautiful and profitable website you LOVE!

Frequently Asked Questions
Will my therapist website design be unique to me and my brand?
We understand how important it is to you as a therapist that the design of your website be unique and tailored to match your brand, your style and personality, and your practice. In the process of creating hundreds of customized website designs for therapists like you, we've learned how to delight our clients by creating gorgeous therapist website designs they LOVE. What if the design of your new therapist website can be a source of renewed inspiration for you and your practice? We'd love to collaborate with you and create a unique website design that stands out among all the therapist website designs out there.
Check out our portfolio to get a feel for the quality of the therapist website designs we've created for our happy clients.
Are all therapist website designs created equal? Or does design matter?
The truth is that all therapist website designs are not created equal! And the design of your website matters a lot. Everybody uses Google to find what they're looking for these days — including those who are seeking a therapist. Your potential clients will want to check you out and learn about your practice before booking their first appointment or consultation request with you.
One possibility is, your potential clients check out your website and come away feeling just… "meh". Another possibility is, your potential clients check out your therapist website and become inspired by the design, the imagery, the font, and the colors. They feel safe. They can feel the quality and care that went into creating the design of your website. They find what they're looking for easily on your services page. After learning more about you on the About Me page, they click one of the CTA (Call-To-Action) buttons on the page… and boom! There's another well qualified, well fitting potential client reaching out to you again in need of your therapy services.
What is the process of creating the design of my therapist website after signup?
After you sign up there is an onboarding process that we'll go through together. Part of that process is selecting your favorite type of design layout from the four therapist website design themes that we offer. Our website design themes are designed specifically for therapists and are fine tuned to appeal to those seeking therapy services — and to inspire them to reach out to you. All of our website design themes for therapists are simple, beautiful, easy to navigate, mobile friendly, and highly effective.
Each of the four therapist website design themes we offer have distinct layout properties and stylistic expressions. Which one of our therapist website design themes are you most attracted to? After choosing your favorite layout, we'll use it as the base, and then customize it to fit your unique branding. If you need help deciding, we'll support you by making our honest recommendation. If you don't have branding yet because you're just starting out, we can help you with that as well. No stress!
View our therapist web design themes now to experience the quality of our work.
Is TherapyRising a therapy website builder?
A therapist website builder implies that you can basically build the website yourself on our DIY (do-it-yourself) platform — is that correct? If so, the answer is both yes and no.
Yes, because all of the therapist websites we create for our clients are built on WordPress (WP), and WP has a fantastic backend admin section that you can have access to if you desire to manage the content of the website yourself.
No, because we don't aim to be a DIY therapy website builder where you have to do the work yourself. Our clients LOVE the fact that our goal is to take all of the website work, responsibility, stress, and know-how off of your shoulders so you can use your time and energy focusing on your therapy practice and your clients. What if you never had to worry about your therapist website ever again? We do everything for you, including future updates and revisions that you request.
Anytime you need something regarding your therapist web design, if you'd like to update any content, imagery, rates, or the type of insurance you accept, just email us and we'll take care of it for you. Simply put, we aim to be your one and only contact for all things website related.
We are a full service, done-for-you therapist website design service — not just a therapy website builder.
I'm a psychologist, not a therapist. Do you also provide psychologist website design?
Yes, we provide psychologist website design services.
We are very familiar with the distinction between being a psychologist, a counselor, a psychotherapist, or a therapist. Although they are different in practice, when it comes to web design for psychologists vs. web design for therapists, they are one in the same. This is also true for counselor website design vs. psychotherapy website design. This is because psychologists, counselors, psychotherapists, and therapists all have the same needs when it comes to their website.
How can I switch to TherapyRising if I'm currently with a different therapist website design company?
One of our main sources of referrals are new clients who switch to us from a competitor like TherapySites or BrighterVision. Because we make the process of switching to us painless and stress free, your new and improved therapist website design will be up and running in no time. We've switched hundreds of therapists over to our platform, so we're super familiar with the process.
We know all the right questions to ask, and all the right actions to take depending on your answers. We find that our clients feel relieved when they find us and switch to us. We are one of the newer, more modern therapist website design companies out there, and we are really good at what we do. You'll be able to sense it through your experience switching over to our therapist website design services.
Contact us today for your free therapist website design consultation >
We look forward to working with you!
My current therapist web design is outdated -- can you update my existing website?
Sometimes we get asked if we are able to work on and improve existing outdated therapist web designs to make them better. The short answer is no, we cannot work on an existing, outdated therapist website.
The reason is because TherapyRising is a comprehensive and proprietary therapist web design platform that we've developed exclusively for therapists, and in order to benefit from our services, your website needs to be built and maintained on our systems. We've developed efficient procedures to ensure the success of our clients' online presence, and it's only available when you switch your therapist website to us.
Should a psychologist website design be different from a normal non-therapist website design?
Private practice psychologist websites serve a very different clientele when compared to a non-therapist website, like an accountant, plumber, or retail store. Therapist and psychologist websites should be designed with the potential client in mind. Therapist and psychologist seekers are often in distress when looking for a new psychologist or therapist to work with. For this reason, all of our psychologist website design themes are designed to be soothing, easy to navigate, simple, and inspiring to your potential clients.
For example, we use soft colors that are not overwhelming or too bright on the eye. The psychologist website is designed to be intuitive and the user knows where they are supposed to go and what they are supposed to do in all areas of the website. The imagery we select is meant to be inspiring and beautiful, and it's meant to tell a story about the therapy and psychologist services our clients offer. The end result is that leads reach out to you already trusting you, already having a relationship with your brand, and are enthusiastic about getting started with therapy.
Is TherapyRising the best therapist website design service for psychotherapists?
The best therapist website design service for psychotherapists is subjective at best, however if you compare our psychotherapist websites compared to our competitors', it's clear that our psychotherapist websites stand out among the rest. Please visit our Portfolio page to view our recent designs. What do you think is the best psychotherapist website design after checking out our competitors' portfolio and comparing it to ours?
Psychotherapists trust us to deliver high quality website design work because our goal is to create a website for you that you LOVE. Not only will your new custom made psychotherapist website design be beautiful, it will also be a source of new inspiration, opportunities, and growth for us, for you as our client, and for your clients as well. It's amazing what receiving the best psychotherapist website design service can create when the psychotherapist website we create for you starts generating a life-changing amount of traffic, leads, and new clients!
I'm a counselor, not a therapist. Do you also provide counsellor web design?
Yes, we provide counselor / counsellor web design as well as therapist web design. We understand the distinction between counselor / counsellor website design vs. therapist website design vs. psychotherapist website design vs. psychologist website design. Although there is a distinction in practice, when it comes to website design, the same principles apply to all of them. Whether you are a therapist, counsellor / counselor, psychotherapist or a psychologist, your website should be simple, approachable, soothing, beautiful and inspiring.
Visitors to your counselor / counsellor website should be able to easily navigate the website, and your services and treatment specializations should be clearly laid out and easy to find. Since the clientele of counselors / counsellors are similar to that of therapists, psychotherapists, and psychologists, the approach to the design of the website would be similar.
What results can I expect from my new therapist website design by TherapyRising?
Not all therapist website designs are created equal and there is a noticeable difference in the way a website looks and feels when it's done right. That's why when you get your therapist website designed by TherapyRising, you can rest assured you will receive high-level, professional design quality that brings results to help you create your successful practice.
Your therapist website serves many purposes at once and can be one of your most valuable assets in running your therapy practice. Your website can generate leads, serve as an information hub about your business and services, it can promote your brand, it can allow potential customers to find out anything they need to know about your practice with ease.
Your therapist website with TherapyRising covers all of the above! You can expect to be found in Google, and you can expect your website to perform well when you send people to your website who can be potential referral partners. We'll make you look professional, modern, and an attractive option when it comes to potential clients who are looking for a therapist online and come across your therapist website.
I need therapist SEO for my website, does TherapyRising provide SEO services for therapists?
Yes! SEO for therapists is one of our main specialties, alongside our website design services for therapists. SEO can feel daunting and obscure, especially for a therapist! There are so many questions to be answered… Do I need SEO for my therapist website? Is SEO for therapists the same as SEO for non-therapist websites? Does the TherapyRising website package include SEO with the therapist website design services? Can doing SEO for a therapist website bring me to the top of Google? How long does it take? How much does therapist SEO cost? These are all great questions.
For a therapist, SEO means being able to drive traffic from Google search to your website by ranking for the keywords your potential clients are searching for in your local area. The way Google works is your website gets indexed by location and service niche. When people search for therapy and counseling services in your area, Google needs to show the best results in an effort to satisfy the user's search intentions. SEO for therapists is a process of building up your website's reputation and website authority in Google by optimizing your website based on signals Google looks for when deciding which website to rank in the top results.
Over time, doing SEO for therapist websites results in keyword ranking improvements in Google for the keywords your website is targeting and being optimized for. Using specialized tools, we're able to track the rankings of your website in real-time. First, the purpose of SEO for therapists is to get in the top 100 search results. Once that is achieved, the goal becomes rising in the rankings until reaching the first page, which means being in the top 10 results. The first page of Google gets approx. 95% of traffic, and the higher your therapist website ranks (1st being the highest), the more traffic, leads and new clients you will get.